Germany Takes a New Look at Immigrants
After protracted negotiations, Germany's governing coalition has finally agreed on a new set of laws regulating the status of immigrants in Germany. But will it actually help them? German commentators attempt to answer that question. A summary at Spiegel-Online from March 14, 2007


"German asylum policy and its lethal consequences"
"The number of refugees who applied for asylum in the Federal Republic amounted to 21,000 in 2006 and was thus the lowest since 1983. At
the same time only 251 persons (0.8 %) were accepted while 30,756 decisions have been made by the Federal Office (0,8 %). 1,097 (3.6 %)
persons received a protection against deportation according to § 60 Article 1 of the Federal Residence Permit Laws..." News Release from the "Antifaschistische Initiative" Berlin, 18.2.2007



2007: G8 summit in Heiligendamm
Chronicle of state violence at G8 2007
A Chronicle by Gipfelsoli Infogruppe at Indymedia-Germany


from 16.06.2007. Sources: Camp AG, Streetmedics, Infopoints, Indymedia Ticker, lawyers, police, eye-witnesses, press, pressgroups, Linkspartei Bad Doberan, Committee for Basic Rights and Democracy, own reports etc in a translation by Media G8way International Pressgroup
Reflections on Rostock
"Future generations of propagandists will be offered the anti-G8 demonstrations this month as a text-book example how globalization crudely manipulated public opinion by demonizing demonstrators and labeling opponents terrorists…" Article by Uli Schmetzer at Indymedia-Germany


from 12.06.2007
How did mainstream media cover the G8?
"Were you at the G8? Find out how dutch, german, english and international television stations were reporting about the G8. Which programmes were giving a fair and accurate perspective on the negotiations, and on the protests?..." Article by Gerbrand at Indymedia-Germany


from 10.06.2007
No to the G8 - Trade Unions on the Global Stage
"We trade union members from many countries are part of the protest against the 2007 G8 summit in Heiligendamm. These annual summit meetings are – more than any other international institution – a symbol of world-wide neo-liberal hegemony. G8 leaders' summit meetings serve global coordination and power distribution, thereby stabilizing the neo-liberal regime over the economy, with all the evil consequences for the majority of mankind. An elite minority grabs all the wealth produced by millions of people..." Call from Trade-Unionists against locational competition and wage dumping


dissentnetwork.org

... is the website of the international mobilization against the G8 summit 2007 in Heiligendamm, Germany. It is meant for an exchange of documents and information in different languages and between countries. The Homepage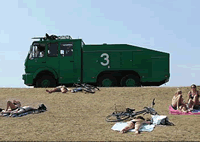 G8' 07 - UK Visitor Winner's Guide
"Never been to Germany before? This summer's G summit offers a welcome opportunity to meet with cosmopolitian friends. This leaflet ist designed to prepare you for the confrontation with the state... " The leflet (12-side) at Gipfelsoli.org



. Look also:
Police powers and presence for the G8 summit 2007, Pepperspray, CS, & Other 'Less-Lethal' Weapons used by Rioting Police, and further Informations like Translation of Legal Terms (french – english – german – spanish – greek) at Gipfelsoli.org under the item "Information" on the right-hand .
NEW ANTI-TERROR LEGISLATION: Journalists Worry 'Big Brother Law' Will Kill Press Freedom
A new law working its way toward passage in Germany has journalists worried. Certain provisions, they say, could eliminate the ability for reporters to protect their sources. Still, the measure is likely to go into effect early next year. Article by Charles Hawley at Spiegel-Online from 12/17/2008


BIG BROTHER WORRIES: German Parliament Passes Anti-Terror Law
Germany's lower house of parliament has approved a hotly debated law vastly expanding the surveillance capabilities of the federal police. Opponents lambaste the measure as an effort to create a "super police" -- and look forward to their day before the Constitutional Court. Article at Spiegel-Online from 11/13/2008


HIDDEN CAMERAS? Spying Scandal Widens at Deutsche Telekom
Investigators began searching Deutsche Telekom headquarters in Bonn on Thursday, looking for evidence that the firm spied on company managers and journalists. New allegations accuse the company of spying as far back as 2000. Article at Spiegel-Online from 05/29/2008


Is Germany Ready for Targeted Killings?
"For years, Interior Minister Wolfgang Schäuble has been trying to jack up German domestic security in the face of a growing terror threat to the country. These days, the rest of the country seem to be listening." Article by Spiegel-Staff from 09.07.2007


German government approves retention of data
"On Wednesday, the German Cabinet passed the German Justice Ministry's draft to reform telecommunications monitoring and other covert investigations. The German government is implementing this highly controversial legislation in order to adopt the regulations handed down from Brussels on the retention of connection and location data; yesterday, numerous media associations once again voiced their strict opposition to this new legislation, which they fear will undermine the freedom of the press and the protection of whistleblowers..." Article by Stefan Krempl and Craig Morris at heise-news from 19.04.2007


Germany Wants Police Access to Digital Passport Files - Currently, the fingerprint files are supposed to be deleted
Germany plans to alter the country's passport law to allow police access to digitalized passport photos. But the coalition is split over whether authorities should also be able to store and use fingerprint files. Article at Deutsche Welle from 12.04.2007


German Court Revokes Left-Wing Teacher's Ban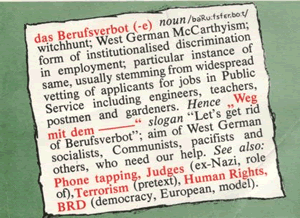 "After a five-year battle, a German teacher prohibited from working in public schools because he was a member of an extreme left-wing group has had the ban lifted. The Ministry of Education in the southern German state of Baden-Württemberg had imposed a ban on employing Michael Csaszkoczy in 2002 on the grounds he was "politically unreliable." The first time Csaszkoczy took the case to court, the judge in Karlsruhe upheld the ban. But on Wednesday, an administrative court in Mannheim ruled the ministry had unjustly refused to employ Csaszkoczy and ordered education officials to review his application for a teaching position..." Article by Deutsche Welle Staff at 15.03.2007


. See also:
Demonstrators thwart neo-Nazi bid to stage Dresden bombing rally

Thousands of demonstrators: Demonstrators in Dresden successfully prevented right-wing extremists. from staging a march to commemorate the city being firebombed. Others gathered to form a symbolic human chain against the neo-Nazis…" Article by Deutsche-Welle from 13. February 2010


Germany 'Not Doing Enough' to Fight Right-Wing Extremism
A report released Tuesday showed a 16 percent increase in far-right crimes in Germany in 2008 and a rise in the number of neo-Nazis. German commentators argue that the government is not doing enough to fight right-wing extremism. Article at Spiegel-Online from 05/20/2009


NEO-NAZI FASHION: Thor Steinar and the Changing Look of the German Far Right
Shaved heads, bomber jackets, black boots with white shoelaces -- it used to be easy to spot a neo-Nazi. But young far-right extremists are wearing more stylish and more coded clothes. Article by Rachel Nolan in Berlin at Spiegel-Online from 11/20/2008


Conservative Premier Defends Nazi-Era Judge
A leading German conservative defended a notorious Nazi-era judge at the man's funeral, reaping criticism from Germany's Central Council of Jews, among others. Article at Deutsche Welle from 12.04.2007


High Court allows defaced Nazi symbol

"Germany's highest court has reversed a lower court ruling against a man accused of breaching a ban on Nazi insignia. The defendant had sold T-shirts, lighters and stickers with a crossed-out swastika symbol as an anti-Nazi protest. Juergen Kamm had earlier been fined 3,600 euros by a court in Stuttgart for breaking a German law prohibiting the use of Nazi symbols except in specific educational and artistic contexts. But the German supreme court in Karlsruhe found that Kamm was innocent because the items he sold "clearly and unambiguously" carried an anti-Nazi message." News at a Glance by Deutsche-Welle at 16.03.2007


. See also:
The diskussion about this case on the German-Site of LabourNet Germany: "durchgestrichenes Hakenkreuz krimineller als das Original?" [Crossed-Out swastika-symbol more criminal as the Original?]
"Strong German Fascism Is Inconceivable Without a Führer"
Far-right expert Prof. Wolfgang Wippermann spoke to DW-WORLD.DE about Jean-Marie Le Pen and the possibility of such a leader and a movement like his National Front gaining similar prominence in Germany. Interview from Nick Amies at Deutsche-Welle 16.03.2007


Right-wing Violence on the Rise
This year has seen 20 percent more attacks by right-wing extremists than the same period last year -- and more of those incidents were violent. Political pressure is growing to address right-wing extremism as a dangerous trend rather than isolated incidents. Article at Spiegel-Online from October 17, 2006


Germany: New university tuition fees threaten students with poverty
"As a new term approaches, tens of thousands of German university students face new tuition fees of as much as €500 for each semester. The new fees threaten many students with poverty and will inevitably force a considerable number to end their studies. At a time when the current German government—a "grand coalition" of the Christian Democratic Union (CDU) and Social Democratic Party (SPD)—is encouraging the development of so-called elite universities, the German higher education system is increasingly developing into a two-tier, class-based system..." Article by Parwini Zora published at the World Socialist Web Site at 10 March 2007


Unemployment and Precarious Work
Bad Marks for Germany on Women's Pay
"Germany may be led by a woman but the country ranks poorly in a comparison of differences between men's and women's pay in the European Union, according to recent figures. Chancellor Angela Merkel is a rare example of a German woman with a top job. For all the talk about equal rights and equal opportunities in Germany, women are still walking home with a far smaller pay packet than their male colleagues for doing the same job…" Article in "Der Spiegel" from April 11, 2007


Employment Precariousness and Industrial Action
"Low-paid, temporary and unregulated work conditions have always existed. But what for decades was "reserved" for women and immigrants, as well as for voluntary dropouts, is now becoming the daily experience of more and more people. For years now, precarious wage labor has been expanding in all sectors of the economy. Deregulated work conditions have been on the increase since services have started to be outsourced, work made more flexible and since the low-income sector has begun to receive state support. The "entrepreneurial self" has become the leading notion in ever more trade branches..." Article by Mag Wompel

published in: "Employment Precariousness and Industrial Action / Prekarität und Arbeitskampf. In: where work ends and mission begins by bankleer, Akademie Schloss Solitude, 2005, ISBN 3-937158-01-4, S. 106-119
German "labour reform": all-out attack on the unemployed
"On July 9, the Upper House of Parliament voted through the so-called labour market reforms. With the agreement of the Upper House, a law that represents the greatest and most comprehensive change in German welfare legislation since the introduction of labour and social insurance by Bismarck in the nineteenth century passed its last parliamentary hurdle. (...) When the law comes into force on January 1 next year, most of the more than 2 million long-term unemployed—those jobless for longer than a year—will receive far less money. Their entitlement will be reduced to an average of 345 euros a month, or 331 euros in East Germany. According to official calculations, half a million people will no longer qualify for any support on the basis of the new rules. The new law will drive millions of jobless and their families into bitter poverty..." Article by Dietmar Henning published at the World Socialist Web Site at 20 July 2004