Thai Klinipro: Produces Quality Medical Equipment but Treats its Workers Badly
Seven union leaders from Thai Klinpro factory in Thailand have been dismissed for organising a union and demanding improvements in conditions in their factory. They need your support urgently – please write letters (requested action appears on pages 5 & 6) of this appeal. Please pass this appeal on especially to Unions in Sweden.
COMPANY PROFILE
Name of the company : Thai Klinipo Co., Ltd
Address : 160 Moo 17 Bangplee Industrial Estate, Bangna-Trad Rd., Km. 23, Tambol Bangsaothong, Bangsaothong, Samutprakarn, 10540 Thailand
Tel. ++66-2-7051677, ++66-2-3151016
General Manager : Mr. Prapats Pupinyokul
Major shareholder : M 'o' lnlycke Health Care, SE-402 05 G 'o' teborg Sweden Tel. 46 31 722 30 00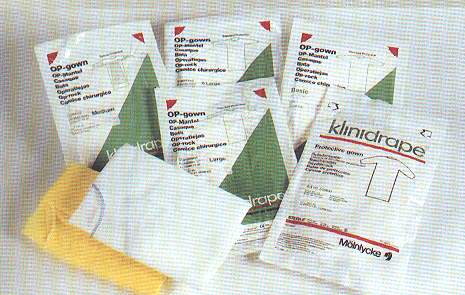 Thai Klinipro is one of the largest producers and distributors of medical supplies, such as one time use suits for doctors in operation rooms, and all kind of medical equipment produced under the trademark of "Klinidrape" which has had 36 percent rising sales every year. In 2000, sales increased to 1.22 billion baht, or 38 percent from 1999. It is expected that in 2001, the total sales will rise to more than 1.4 billion bath (3.5 Million USD). Having a huge amount of net profit has enabled the company to expand its working capacity. The company will open a new factory at the beginning of 2002 and 1,200 workers will be employed.
The active committees executives are:
Mr. David John Nicol - Australian;
Mr. Charles Blair Sinton – British;
Mr. Carlton Davis Pike - American.
Thai Klinipro was established in 1990 and is a joint venture between Berli Jucker Public Co.,Ltd and M 'o' lnlycke Health Care.
The company employs 902 workers, with women composing 90 percent of the workforce.
The company exports to Europe and America. Thai Klinipro has been receiving Board of Investment privileges such as tax breaks since 1990.
The labour union at Klinipro was founded on 3 March, 2000 with 600 members.
WORKING CONDITIONS AND LAYOFFS OF UNION LEADERS
Most workers at Thai Klinipro have been at the factory between 3 - 10 years. Average wages are about 180 – 200 baht per day. This is a very low rate of pay and insufficient to cover the expenses of workers and their families. This forces them to work 2-4 hours of overtime a day, as well as working on holidays in order to supplement their wages and have sufficient income. The company determines production targets, which the workers must meet the targets increase constantly. Workers have to produce 75% of the set target rate, calculated at 232 pieces within an 8 hour period, in order to receive the base rate of wages. The target system means employees have a very heavy and intense workload and have to work in a rushed and strained manner at all times.
In 2000, the company began to use subcontracted labour through contracting with K.L.N., Nuaphon Service and Bravo Supply Companies to hire 300 workers. These subcontracted workers are employed in every department, alongside regular workers, yet they do not receive the same benefits as regular workers. For example, regular employees receive an average of 180-200 baht per day, while the subcontracted workers receive just 165 and do not enjoy their full rights under Thai labour law. The employer has also refused to pay subcontracted workers in the event they take sick leave.
Three shifts are worked. The morning shift starts from 7:00 am and continues to 15:30. The afternoon shift begins at 15:30 and runs until 24:00. The night shift begins at midnight and continues until 7:00 am. A worker's shift will rotate every week. This has effects on health as workers have to constantly adjust to new and irregular working hours.
The company has ignored much needed safety improvements in the factory, especially the problem of sufficient lighting. Workers complain of sore eyes, blurred vision and a high rate of nearsightedness for those who have worked in the factory for a long time. There is a high accident rate as every month 3 to 4 workers are injured by needles. Moreover, the factory is laden with dust, causing allergies for many workers. The bathrooms, they are dirty because there are not enough cleaning staff in the factory and changing rooms are too small and narrow. Workers have asked the company to improve the cleanliness of the bathrooms, but the company has so far refused.
Pregnant women workers are required to do the same amount of work and meet the same targets, working at the same hurried pace as regular employees. From 1999-2000, pregnant women were forced to work the shift system along with other employees, though this is a violation of the Labour Protection Act of 1998, which prohibits employing pregnant women to work between the hours of 10 pm and 6 am.
These terrible working conditions prompted workers to organize a labour union on the 3rd of March, 2000. The union has submitted demands to the employer twice in 2000 and then for a third time in February of 2001. In 2001, the union asked for an increase in the cost of living adjustment, for incentive pay and for shift compensation.
However, the company responded by submitting counter demands to reduce the amount of shifts from 3 to 2, reduce the workforce, increase the days worked per month from 24 to 26, pay workers only 75% of wages in the event that the company has no work for them to do, and for the contract to be in effect for 2 years. This made negotiations very difficult and the union held rallies and meetings in front of the factory. The labour union ended the dispute through compromise.
After negotiations were finalised, the company employed discriminative tactics such as: not allowing union members and union committee members to work overtime (which they rely on because of the extremely low base wages);
Mr. Pairot Sornsa-art, a leader of the union, and in charge of collecting financial contributions to the union, was laid off with severance pay.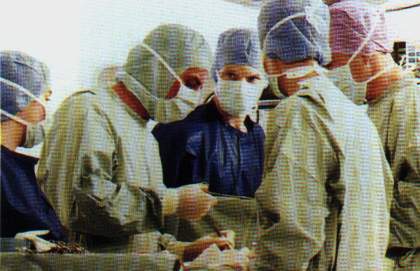 Due to terrible working conditions, heavy workloads and discrimination of union members, workers organized on the 20th of May, 2001 to stage a refusal to work overtime, this reduced the amount of overtime work done and caused a majority of workers to slowdown production in the factory. The company responded by cancelling overtime in the factory. The company issued warnings to workers and fired a total of 23 union committee representatives and union members. After reconsideration, the company decided that 4 of the workers had been fired without reason and allowed them to return to work. 3 of those workers, including one pregnant worker, decided, however, to leave and take compensation. The firings without cause shows the company's intent to destroy the union.
The company later claimed that the dismissed workers were sluggish, had not worked efficiently and had agitated unrest and negligence in other workers. This claim is untrue, workers organised a union as is their right under labour law. Targets were increased to an unbearable level. Workers also felt their jobs threatened due to the employment of sub contracted labour.
The company dismissed the labour union leaders to reduce the unions bargaining power while the company opened its new factory to increase production. The company used this reason to take advantage of workers by freezing wages at their lowest and putting pressure upon the workers to accept working at intensive speeds with insufficient wages to maintain a decent standard of living.
Owing to their difficult economic circumstances, 16 workers agreed to take compensation according to the labour law instead rather than fight to go back to work. However, there are still 6 active union committee representatives and 1 union member who insist on returning to work to fight to protect the rights of the labour union and carry out the union's activities.
They are Mr. Pornchai Ketkomkwa; 2. Mr. Paiboon Dokkom; 3. Ms. Ratri Sasikul; 4. Ms. Budsadee Sasikul; 5. Ms. Warapol Malangphu; 6. Ms. Jitsupa Keawthong and Ms. Sukanya Oonwong, respectively.
Thai Klinipo Labor Union would like to ask labour unions, NGOs and particularly labour union friends in Sweden to please help to put pressure on the Thai Klinipo Co., Ltd to reinstate the seven workers/union leaders immediately.
You can help by doing the following:
1. Send letters of protest to Thai Klinipro Co., Ltd., asking the management to reinstate the 7 union members at:
Thai Klinipro Company Limited
160 Moo 17 Bangplee Industrial Estate,
Bangna-Trad Rd., Km. 23, Tambol Bangsaothong
Bangsaothong, Samutprakarn, 10540 Thailand
Tel. ++66-2-7051677, ++66-2-3151016
E-mail: thaiklin@asiaaccess.net.th
Please copy your letter to the:
Center for Labour Information Service and Training
66/23 Mooban Nattakarn 3, Phaholyothin 52 Rd.
Klongthanon, Saimai, Bangkok 10220 Thailand
Fax. 66-2-9727035.
Or e-mail to clist2@loxinfo.co.th
2. Directly open a dialogue with M 'o' lnlycke Health Care to pressure the company to reinstate the 7 labour union leaders back to work, to stop discriminating against union members, and most importantly to respect the labour union' s right to run their own activities.
M 'o' lnlycke Health Care
SE-402 05 G 'o' teborg Sweden
Tel. 46 31 722 30 00
3. Send messages of solidarity and support to the dismissed unionists.
THANK YOU FOR YOUR SOLIDARITY AND SUPPORT
---
transnationals information exchange - asia
18th September 2001
Mr. Prapats Pupinyokul
General Manager
Klinipro Company Limited
160 Moo 17 Bangplee Industrial Estate,
Bangna-Trad Rd., Km. 23, Tambol Bangsaothong
Bangsaothong, Samutprakarn, 10540
Thailand
thaiklin@asiaaccess.net.th
Dear Mr Prapats Pipinyokul,
Transnationals Information Exchange (TIE Asia) is a regional labour organisation that works with democratic unions and focuses on the issues of women workers in Thailand, Bangladesh, Sri Lanka and Indonesia and is